The Great Escape 2015 – 10 Reasons To Not Miss TGE15
For anybody who has been in a musical black hole for the last decade, I would like to introduce you to Brighton's great metropolitan music festival – The Great Escape. This three-day inner-city festival and convention is held annually in May and this year is to be its tenth, so I thought I'd give you all a brief history of some of the great acts which have played at the Great Escape:
2006 – Bat For Lashes, Paolo Nutini, Rumble Strips, The Fratellis and The Kooks
2007 – Adele, Foals, Kate Nash, Laura Marling, Passenger and The Magic Numbers
2008 – Bombay Bicycle Club, Bon Iver, Iron & Wine, The Futureheads, The Wombats and Vampire Weekend
2009 – British Sea Power, Kasabian, Metronomy, Mumford & Sons, Noah & The Whale and The Maccabees
2010 – Chase and Status, Ellie Goulding, Ghost Poet, Michael Kiwanuka, Stornoway and Tinie Tempah
2011 – Bastille, Ben Howard, Daughter, Ed Sheeran, Foster The People, Frank Turner, Lucy Rose, Rizzle Kicks, Sufjan Stevens and Warpaint
2012 – Chet Faker, Django Django, Foxes, Jake Bugg, Mystery Jets, Slow Club and The Temper Trap
2013 – Chvrches, Klaxons, Kodaline, Kwabs, London Grammar, Luke Sital-Singh and Tom Odell
2014 – Alvvays, Clean Bandit, Dry The River, Fat White Family, East India Youth, George Ezra, Kiesza, Marika Hackman, Rae Morris and Royal Blood
(You can see more highlights from the earlier TGEs here – TGE HIGHLIGHTS)
If like me you were pleasantly surprised at how many names in the above list that you have heard of, seen performing locally or seen at a music festival, then you too will realise that The Great Escape is THE place to go to see and hear the latest and best music talent from across the country, often before the radio stations and your friends have even heard of them!
So here is my guide of 10 reasons why The Great Escape 2015 is a music festival not to miss!
1. The Bands
TGE15 will feature performances from over 400 bands and solo artists, with many giving more than one performance to help ease the inevitable problem of clashing sets. There is a huge variety of bands on display cross-sectioning most popular music genres and sub-genres, with an arsenal of formidable local acts and others from around the country and the rest of the world.
The main problem with so many bands is deciding on who it is that you really want to see, so I suggest heading over to The Great Escape Website to have a browse and see who your top festival picks this year are. You can then plan your festival using the handy online festival planner to see who is playing where and at what time. Aren't they helpful?!
2. The Price
With TGE15 tickets originally going on sale at just under £50 for a Super Early Bird 3-day pass (including all booking and transaction fees), the festival is fantastic value for money with over 400 bands playing at 35 venues, spread over the three days – Thursday 14th – Saturday 16th May 2015.
Please note that all super early bird, early bird and saver tickets are now SOLD OUT, but there are still a limited number of full price 3-day tickets available for only £66 (including all booking and transaction fees). There were also 1-day and 2-day tickets available but these have completely SOLD OUT.
3. The Venues
As I have mentioned, there are around 35 venues being used for The Great Escape this year including a number of well-used music venues and a number of alternative venues including churches and pub takeovers. For a new visitor to the city, it is a great opportunity to discover many of the hidden coves that Brighton has to offer, and if you are a local, it will likely have you discovering some new venues away from your usual haunts.
4. Alternative Escape

In addition to the main festival, The Alternative Escape is an official associated fringe festival, filled with showcases and with a particular emphasis on local artists. With over 200 artists performing at 15 different venues, it is safe to say that there won't be a dull moment during The Great Escape weekend. TGE has lulls in the programming between 4pm and 6:30-7pm so this would be a great time to check out some of the local talent in the Alternative Escape which will be running throughout the festival.
Find out more about the line up for The Alternative Escape
5. The Convention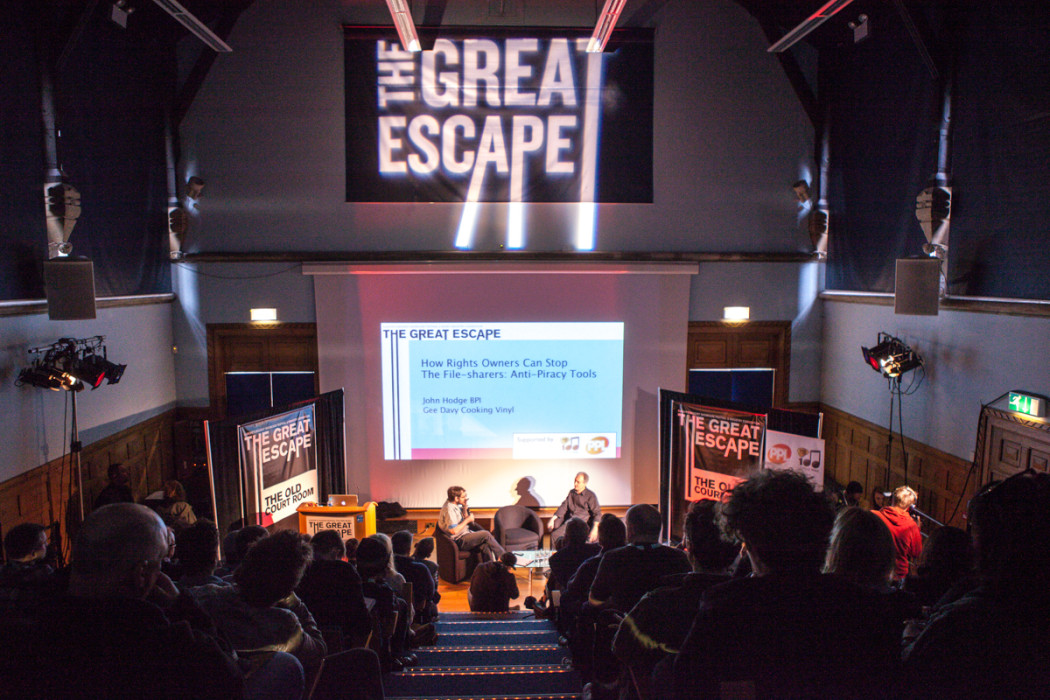 In addition to TGE15 festival there is also TGE Convention, a music conference which runs during the day times including talks on music marketing, branding, licensing and streaming. The Convention ticket grants the user access to TGE Convention, networking events and priority entry to all core venue gigs over the festival.
Find out more information on TGE Convention or to buy tickets.
6. The Location
If you've not been to Brighton before, TGE15 is the perfect way to combine all the live music that you could want to see and hear with the sights and splendours of the city including The Royal Pavillion, Brighton seafront and Brighton Pier. The city is also filled with quirky shops, markets and boutiques in The Lanes and North Laine, as well as all of the major high street brands in Churchill Square Shopping Centre, so if you want to shop between the gigs there are plenty of places to do so!
7. No Transport? No Worries!
In short, you don't really need to use any transport at The Great Escape, other than travelling to Brighton if you from outside the city. Brighton has a very compact city centre, with the majority of TGE venues being within a 10 minute walk of each other so you don't need to spend time and money on public transport, but you should check where venues are if you haven't been to them before and aim to arrive about 15-30 minutes before an act that you would like to see to make sure that you can get in and don't miss them!
If you do want to explore the surround areas of Brighton and Hove, our bus service is very regular and is an easy way to get about. A day saver ticket is £4.70. Find out more about Brighton and Hove Buses.
8. Food and Drink
Brighton is renowned for being a culturally diverse city, with a high population of tourist visitors from overseas as well as a thriving population of students and locals from all walks of life. As such, the city caters for many cultures with a wide array of restaurants and take-aways to suit any palette. With a particular lean towards vegetarian and vegan food, Brighton has a lot to offer – and at reasonable prices unlike a lot of traditional festival food.
9. Accommodation
Instead of sleeping on a hard floor in a questionably insulated sleeping bag inside a leaky tent during a gale force wind, as may be the case at a traditional music festival, why not treat yourself and sleep with a room over your head?
TGE15 offers a number of accommodation packages from luxury to basic, starting at just £82.50 for 3 nights including breakfast. Find out more about Accommodation Packages.
10. No Wellies Required!
Finally, for those of you who are put off of going to music festivals because of the inevitable slug through a large muddy field dragging behind you a broken tent and three times your bodyweight in 'festival essentials', TGE15 is definitely the festival for you.
Set in the city centre of Brighton, you won't need a tent, wellies and the rest of the usual festival paraphernalia. Plus if you forget anything, there are shops all around to buy whatever you need!
For more information about TG15 visit greatescapefestival.com or follow on the TGE Facebook and TGE Twitter #TGE15.
There will also be more updates on the festival here on my blog so keep your eyes peeled!